Kentucky Slip and Fall Attorneys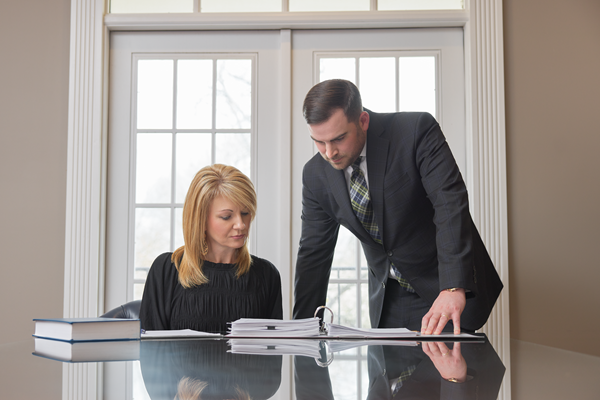 Slip and fall accidents are one of the most common reasons for trips to emergency rooms each year. These accidents can cause serious injuries, such as hip fractures and concussions. If you or a loved one has been affected by a slip and fall accident in Kentucky, you may have the right to file a lawsuit against the property owner in pursuit of financial compensation for your necessary medical care and other losses.
The attorneys at Bryant Law Center have years of experience handling slip and fall cases throughout Kentucky. We are a local law firm with a national reputation for getting results.
What Makes Us Unique?
We are a small Kentucky law firm that gets big results. Our Kentucky personal injury attorneys have collected over $100 million in verdicts & settlements for past clients, including many successful slip and fall cases.
Our core belief is to put clients first. We are compassionate; our staff truly cares about the clients that we represent. We understand what you're going through and will treat you like family.
Our Kentucky slip and fall accident lawyers operate on a contingency fee basis. This means that you'll only pay us if and when we secure financial compensation for your case.
Why You Need a Slip and Fall Attorney
Insurance companies are known for taking advantage of their clients to save their investors money. It can be especially difficult to win a slip and fall injury case, as insurance companies are wary of frivolous and fraudulent slip and fall claims. The best way to strengthen your case and the odds of obtaining the compensation that you need is to hire a slip and fall accident lawyer.
A lawyer can go up against an insurance company on your behalf to demand a fair case outcome while you focus on healing from your injuries. Your lawyer will investigate the slip and fall accident, collect evidence against the property owner or another party, negotiate with an insurance adjuster for you, and take your case to trial, if necessary. You can have peace of mind about the legal process with the right lawyer by your side.
Slip and Fall Accidents Cause Serious Injuries
A slip or trip and fall accident can inflict injuries that can be life-changing or even fatal, in the worst cases. Statistics show that the elderly are most at risk of fatal falls. The Centers for Disease Control and Prevention report about 36 million fall accidents among older adults each year, with 32,000 related deaths. A bad fall could cause serious injuries for any type of victim, however. Slip and falls can result in injuries such as:
Cuts and scrapes
Bruises and contusions
Broken bones
Dislocations
Muscle and soft-tissue injuries
Wrist sprains
Knee damage
Ankle injuries
Concussions
Hip fractures
Disk herniation
Nerve damage
Fatal injuries
One of the greatest slip and fall accident injury risks among the elderly is a hip fracture. Hip fractures are dangerous due to long healing times, where victims often have to remain close to immobile. This increases the risk of blood clots, bedsores, infections and other health complications. If you or a loved one was diagnosed with any type of injury after a slip and fall accident in Kentucky, you may face serious consequences and be eligible for financial compensation.
Compensation Available
A successful slip and fall and accident lawsuit in Kentucky could repay you for all of the costs and losses associated with the incident. Although no amount of money can make up for a serious injury or the devastating death of a loved one, fair and full financial compensation for a slip and fall accident can help you move forward and hold someone accountable. The compensation available may include:
Medical expenses
Lost wages
Lost capacity to earn
Permanent injury or disability
Pain and suffering
Loss of consortium
Legal fees
Punitive damages
The health care necessary to recover from an injury after a slip and fall accident alone could cost thousands of dollars. Do not trust an insurance company to offer a fair settlement value – especially with the first offer. Instead, work with an attorney at Bryant Law Center to fight for maximum financial compensation for your current and future foreseeable losses.
Kentucky Slip and Fall Laws
Most slip, trip and fall accidents in Kentucky are preventable. They are most likely to take place when a property owner is negligent, meaning he or she does not exercise an appropriate amount of care in the maintenance or control of a property. Premises liability law provides a way for injured accident victims to hold negligent property owners accountable. Learning Kentucky's slip and fall laws can help you understand your rights:
Elements of a claim. To have grounds for a lawsuit, you or your attorney must prove that the property owner failed to maintain a reasonably safe premises and that this caused your fall. In other words, a reasonable and prudent property owner would have done more to prevent the accident.
Burden of proof. The burden of proof is the evidentiary standard that a victim must meet for a successful claim. In a slip and fall case, it is a preponderance of the evidence, meaning proof that the property owner is responsible for the accident with at least a 50 percent certainty.
Statute of limitations. In Kentucky, you have a maximum of one year to file your slip and fall injury claim. If you miss this deadline, the courts will generally refuse to hear the case. This is why it is critical to speak to an attorney about your accident as soon as you can.
You do not have to navigate Kentucky's premises liability laws on your own after a slip and fall accident. Bryant Law Center can connect you to teams of attorneys, case managers, investigators, experts and other resources that can guide you through the legal process and help you achieve optimal results. We will work relentlessly to secure the case outcome that you deserve.
Contact a Slip and Fall Accident Attorney Today
A slip and fall accident can change your life in a matter of seconds. At Bryant Law Center P.S.C., we can help you get your life back to normal as much as possible with tailored legal strategies and exceptional customer service. Please contact us to request your free consultation with a local slip and fall accident lawyer in Kentucky. Call (270) 550-1230 today.