Kentucky Brain Injury Attorney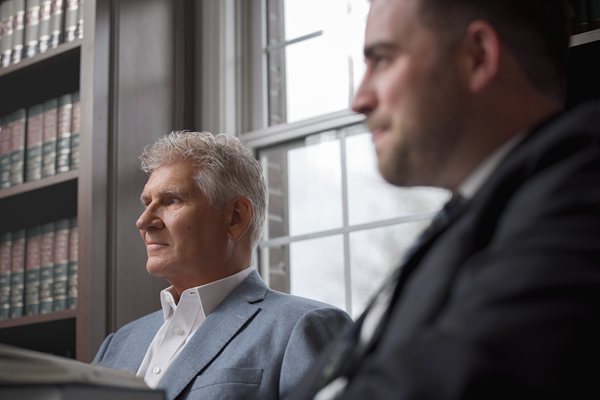 If an accident causes a brain injury, the victim's life may never be the same. A traumatic brain injury, or TBI, is a serious injury that can result in expensive medical needs, the inability to return to work, and significant pain and suffering. According to Kentucky Safety and Prevention Alignment Network, an estimated 14,000 traumatic brain injuries and deaths occur each year.
At Bryant Law Center, our Kentucky traumatic brain injury lawyers are passionate about pursuing justice for those who suffer serious injuries because of the wrongful acts of others. Find out how we can help you today. Call (270) 550-1230 to get started with a free consultation of your case.
What Is a Traumatic Brain Injury?
A traumatic brain injury refers to damage or harm to any part of the brain from an external source of trauma. Examples are blunt force trauma, a jolt or bump to the skull, and a penetrating brain injury. The most common type of TBI is a concussion. Other types are diffuse-axonal injuries, coup-contrecoup injuries, hemorrhages, edemas and hematomas. If a brain injury is not a TBI, it may be an ABI: an acquired brain injury. This type of injury is caused by internal problems, such as a lack of oxygen-carrying blood reaching the brain's cells.
The Benefits of Hiring a Kentucky Traumatic Brain Injury Lawyer
A personal injury lawyer in Kentucky can help make the recovery process easier if you or a loved one suffers a traumatic brain injury. From connecting you to top doctors and neurosurgeons in your area to thoroughly investigating the accident and collecting evidence of fault, your lawyer will provide many services that make it possible for you and your family to move forward. The benefits you could receive from hiring an attorney include, but are not limited to:
Answers and honest advice to your legal questions.
A comprehensive investigation into who or what caused your TBI.
Evidence preservation, collection and compelling presentation.
Someone taking care of confusing legal paperwork and processes on your behalf.
A skilled negotiator going up against an insurance company for you.
The power to take your brain injury case to trial, if necessary.
Peace of mind knowing that you have a powerful advocate on your side.
Recovering from your brain injury should be your sole focus after a traumatic accident in Kentucky. Allow an experienced attorney to handle the rest for you. A personal injury law firm will have the staff, resources, and connections to courts and experts to build a compelling TBI claim on your behalf. At Bryant Law Center, our attorneys will do what it takes to pursue justice while you concentrate on healing and building your future.
Signs, Symptoms and Long-Term Effects of a TBI
The brain is a delicate organ; when it suffers an injury, no matter how minor, it can cause various symptoms and consequences for a victim. Some of these symptoms will go away in a few days or weeks. Victims with severe brain injuries, however, may experience long-term or permanent effects. Common symptoms associated with traumatic brain injuries are:
Dizziness
Headache
Blurred vision
Sensory changes
Loss of balance
Confusion/disorientation
Loss of consciousness
Memory loss
Cognitive challenges
Loss of executive functions
Behavioral or personality changes
Trouble sleeping
Language, speech or communication problems
Every patient is unique, and so is every brain injury. Someone with a TBI may experience some, all or none of these symptoms. It is important to go to a hospital in Kentucky immediately after any incident that involves the head or brain. A doctor can diagnose a brain injury early using special tests and equipment even if the victim has hidden or delayed symptoms.
Common Accidents and Incidents Leading to TBIs in Kentucky
The ability to file a traumatic brain injury lawsuit in Kentucky depends largely on the cause of the injury. The brain injury must have been caused by someone else's negligence, or the failure to use proper care. Many preventable accidents caused by negligence in Kentucky can result in life-threatening brain injuries, including:
Struck-by flying or falling objects
Acts of violence
Gun crimes
Contact sports injuries
Diving accidents
Explosive blasts
If someone reasonably could have prevented the accident that caused the TBI, that person or party can be held accountable and made to pay for the victim's bills and losses. The victim must establish proof of liability to qualify for compensation, however, such as evidence that the defendant violated a standard or duty of care. The Bryant Law Center P.S.C. has the tools and knowledge to evaluate your brain injury case and determine if it has merit.
What Compensation Is Available for a Brain Injury?
If your attorney can successfully prove a traumatic brain injury lawsuit, an insurance settlement or jury verdict may provide financial compensation for multiple economic and noneconomic losses. Economic losses refer to financial expenditures, while noneconomic losses are the intangible ways a TBI impacted you. Any way a brain injury affected you or your family could be a compensable loss during a personal injury claim. Your family may be able to claim financial compensation for:
Medical expenses
Ongoing health care needs
Permanent disability
Rehabilitation or therapies
Losses of income
Pain and suffering
Psychological harm
Lost quality of living
Loss of consortium
Punitive damages
Determining the value of your brain injury case is something that we can do for you at Bryant Law Center.  We will give you an accurate estimation, then help you strategize how to pursue maximum financial recovery. Unlike an insurance company, we want to maximize your financial outcome. We do not get paid unless you do. Most importantly, we wish to help your family move forward with as little financial stress and as much mental peace as possible.
Why Choose Bryant Law Center P.S.C.?
As our client, you will receive personalized legal services from a committed brain injury attorney. We put our clients first in everything that we do.
Our Kentucky personal injury law firm has been representing clients in traumatic brain injury cases for over 30 years. In that time, we have recovered over $100 million in verdicts & settlements.
We accept brain injury cases on a contingency fee basis, meaning you won't pay us a cent unless we secure financial compensation for your losses, guaranteed.
Speak to a Traumatic Brain Injury Lawyer in Kentucky Today
If you or a loved one was diagnosed with a traumatic brain injury after an accident in Kentucky, please contact our law firm for assistance. We understand what you're going through. We will listen to your story, help you understand your rights and do what we can to help you get through this traumatic time. Discuss your case in detail at no cost or obligation today. Call (270) 550-1230 or contact us online to request your free case consultation.