Aurobindo Pharma USA, Inc. Initiates Voluntary Nationwide Consumer Level Recall of 38 Lots of Ranitidine Tablets (150mg), Capsules (150mg and 300mg), and Syrup (15mg/mL) Due to the Detection of NDMA (Nitrosodimethylamine) Impurity https://t.co/9nPzJw9LQe pic.twitter.com/oX4JcLkICt

— U.S. FDA (@FDArecalls) November 8, 2019
The FDA has found low levels of a cancer-causing chemical in samples of the drug Zantac, which doctors had long advised to treat heartburn. Now, some experts are advising expectant mothers to use alternative forms of relief. https://t.co/C0ag2glY2S

— The New York Times (@nytimes) October 2, 2019
Popular heartburn drug Zantac is being investigated for cancer risks by the US Food and Drug Administration (FDA) after their testing showed that the household heartburn medication contains the presence of a cancer-causing chemical. FDA testing of Zantac 150 tablets revealed the carcinogenic chemical N-nitrosodimethylamine, or NDMA, can be found in the drug and generic versions of the drug at excessively greater amounts than the daily intake limit when tested under the FDA recommended protocols.
Valisure's research, along with that of Stanford University and others, found that NDMA >was the result of the "inherent instability" of the ranitidine molecule. This means that all manufacturers, brand or generic, and all lots of ranitidine-containing medications are >affected and could generate very high levels of NDMA in the human body.

Source: Valisure
Current Info on the Zantac Recall and Lawsuits
Lawsuits alleging the drugmaker Sanofi and Boehringer Ingelheim manufactured, marketed, and sold a product they knew or should have known had been contaminated with NDMA were filed beginning the same day the Food and Drug Agency first announced its advisory.
A voluntary recall was also issued which led to the drugs removal from most drugstores such as Walmart, CVS, and Walgreens.
Although the exact cause of the NDMA contamination is still being investigated, links between Zantac and NDMA have been scientifically demonstrated since the 1980s. When ranitidine, the active ingredient in Zantac, comes into contact with water, a chemical reaction results in the formation of this molecule.
The lawsuits against Sanofi and Boehringer Ingelheim allege that the drug companies chose to conceal this information from the government and with consumers. The lawsuits also allege that this lack of disclosure led to many people developing or being placed at risk of developing cancer.
The FDA was first alerted to the presence of NDMA in Zantac in 2019 by the aforementioned Connecticut-based online pharmacy Valisure who discovered that the product contained millions of grams of NDMA more than the FDA established daily intake limit of 96 ng (nanograms).
"We found dramatically high amounts of NDMA."

Valisure chemically tests every batch of every medication and supplement that we sell.

All Americans deserve access to safe generic drugs. #health #drugsafety #ranitidine #zantac https://t.co/SlhNulyGYR

— Valisure (@valisure) October 2, 2019
"We trust our drug supply but, you know, recent events show issues can arise every once in a while"

Valisure's mission is to bring transparency and increased quality to the pharmaceutical industry.#health #drugsafety #ranitidine #zantachttps://t.co/K2LA6SWMph

— Valisure (@valisure) October 3, 2019
"Every single product we tested that included ranitidine produced millions of nanograms of NDMA."#health #drugsafety #ranitidine #pharma https://t.co/2Duld4Wt85

— Valisure (@valisure) September 18, 2019
What is Zantac?
Ranitidine hydrochloride, better known under the commercial name Zantac, is an antacid medication available as both an over the counter drug and by prescription from a physician. Millions of people use the drug to treat acid reflux, heartburn, Barrett's esophagus, gastric and duodenal ulcers, gastroesophageal reflux disease (or GERD),and other gastrointestinal issues. Some consumers may also use it to help with their allergies.
Products That Contain Ranitidine
Although the drug is best known as Zantac, several variations and generic versions have been on the market. All of the following products contain the active ingredient ranitidine:
Acid Control (ranitidine)
Acid Reducer (ranitidine)
Heartburn Relief (ranitidine)
Wal-Zan 150
Wal-Zan 75
Zantac 150 Maximum Strength
Zantac 150 Maximum Strength Cool Mint
Zantac 150 Tablets
Zantac 75 Tablets
What is NDMA?
NDMA has been classified by the FDA, Environmental Protection Agency (EPA), and the World Health Organization (WHO) as a carcinogen. It is a semi volatile organic chemical belonging to a family of chemicals known as N-nitrosamines.
This molecule is the by-product of several industrial processes, including the treatment of wastewater containing nitrogen and in gasoline refining. It is also used in rocket fuel and industrial lubricants. It is also found in a number of food products, such as cured meats, and in tobacco fumes.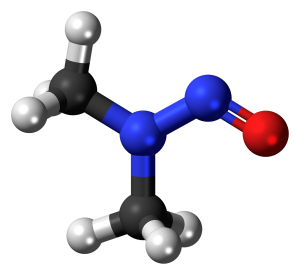 NDMA is also used to induce carcinogenesis (the onset of cancer) in laboratory animals for cancer research.
Numerous human epidemiological studies have shown links between NDMA and cancer. Studies in 1995 showed increased risks of gastric cancer in persons exposed to less than one nanogram of NDMA per day. A 1999 study showed an increased risk of colorectal cancer and in 2000 another study showed increased risks for esophagus, oral cavity, pharynx, prostate, and brain cancer.
NDMA Contamination in Zantac?
Recent testing of Zantac using FDA-approved methods found more than 2,500,00 nanograms (ng) of NDMA in a Zantac 150 tablet. This greatly exceeds the FDA's daily intake limit of 96 ng per day. Some allege that even this daily limit set by the agency may be too high.
Current lawsuits against the makes of Zantac and other ranitidine tablets allege that NDMA in the drugs are not a contamination at all, but a part of the drug itself. They also allege that the makers have been aware of this flaw in their product and attempted to cover the connection between NDMA and cancer.
Lawsuits also allege that the FDA is downplaying the levels of NDMA found in Zantac and the risks associated with this harmful chemical. While the agency says that the amount of the chemical is "low", independent studies have found concentrations many times the daily intake limit.
Other allegations claim this is not an impurity in batches of Zantac, but a by-product of the drug itself. Studies have shown that when Zantac interacts with stomach acid and the heat inside the human body, the active ingredient ranitidine becomes NDMA.
Associated Cancer Risks
Cancer risks associated with brand-name Zantac and generic ranitidine include:
Bladder cancer
Colon and rectal cancer
Esophageal cancer
Intestinal cancer
Kidney cancer
Liver cancer
Lung cancer (non-smokers)
Ovarian cancer
Pancreatic cancer
Prostate cancer
Stomach cancer
Testicular cancer
Thyroid cancer
Uterine cancer
What Does it do to You?
NDMA is a potent hepatotoxin in addition being a probable carcinogen. High levels of NDMA have been shown to cause liver damage in the short term. Symptoms of overexposure to the chemical include fever, nausea, jaundice, abdominal cramps, enlarged liver, vomiting, and dizziness. It may also cause reduced function of vital organs such as the kidneys, lungs, and liver.
Zantac Class Action Lawsuit
Class action lawsuits are now being filed which allege that the makers of Zantac profited from the popular perception of a high degree of safety while using the drug. These suits also claim that the drug companies mislead customers about the risks of side effects from using ranitidine products.
The Difference Between a Zantac Class Action Lawsuit & a Zantac Cancer Lawsuit
A Zantac class action lawsuit is filed on behalf of anyone who has purchased Zantac in the past and has not developed cancer. Joining a lawsuit will allow you to recover the money spent purchasing while holding the makers responsible for any alleged wrongdoing.
People who have developed cancer and the family members of those who have died from cancer after using Zantac may be eligible to file a personal injury or wrongful death lawsuit against the manufacturers.
Who Is Eligible to Join the Class Action Lawsuit?
Consumers who have purchased Zantac and can provide a proof of the purchase are eligible to join a lawsuit against the makers. Those who join the suit will not have to demonstrate they were harmed directly by the medication, only that they purchased the drug without being warned of any possible risk of cancer.
Contact Us If You Have Taken Zantac for 1 Year or Longer
If you or a loved one regularly consumed brand-name Zantac for 1 year or longer, either by prescription or over the counter, contact the Bryant Law Center to discuss your legal options and concerns.
Residents of 4 states – California, Vermont, Massachusetts, and Illinois – may be eligible to join a class action lawsuit if they consumed generic ranitidine.
Zantac Lawsuit Compensation
Since there have been no large settlements regarding the relationship between Zantac and potential link to bladder/stomach cancer we cannot estimate compensation amounts at this time.
Free Case Evaluation
There is no cost for a Zantac case evaluation at The Bryant Law Center. To schedule an appointment, contact The Bryant Law Center at 270-442-1422.
The Bryant Law Center has been representing consumers against harmful pharmaceuticals and drug company mistakes since 1990. We have also represented medical consumers and patients injured by defective medical devices and products including hip replacements, pelvic mesh and several defective drugs and and injuries caused by consumer products. We will regularly update clients on the status of their cases.
If you have regularly used Zantac for 1 year or longer, you may have a claim. Some Zantac claims may be time limited so an expedited consultation enables us to start examining your potential claim immediately.