Kentucky Personal Injury Attorneys
If you were recently injured in an accident in Kentucky, we know that you're going through a traumatic time and may not know where to turn for answers. At Bryant Law Center P.S.C., our Kentucky personal injury lawyers can guide you through the legal process, help you hold a wrongdoer accountable and obtain the financial compensation that you deserve.
We're here to help if you've been hurt because of another person's negligence or careless actions. You can concentrate on getting better. Let us concentrate on fighting for your rights. We are the small-town Kentucky law firm with a national reputation for success in injury cases. Discuss your case with us today during a free consultation.
Personal Injury Resources:
Why Hire Bryant Law Center P.S.C. for Your Kentucky Personal Injury Claim?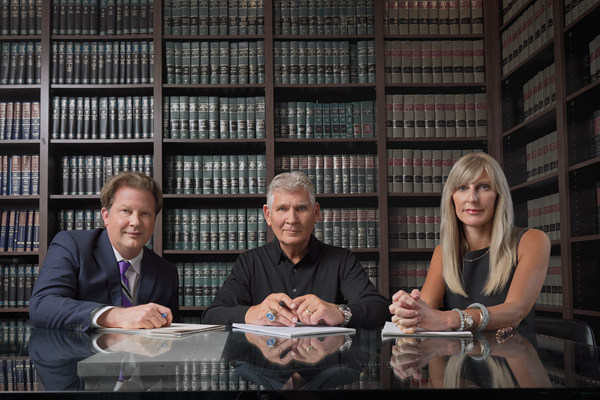 Our personal injury law firm has been representing clients throughout Kentucky for over 20 years. Our president and firm founder, Attorney Mark Bryant, has more than 45 years of legal experience.
We are a small law firm that gets big results. We are members of the Million Dollar Advocates Forum and have an AV Preeminent Martindale-Hubbell rating – the highest rating possible.
Although we resolve most personal injury cases with settlements before trials, we also have vast trial experience and have won many verdicts favorable to our clients.
What Can a Personal Injury Lawyer Do for You?
Hiring a personal injury lawyer to advocate for your rights and interests is the best way to fight for the case results that you need after an accident. A lawyer will have the legal knowledge, staff and case managerss, cutting-edge resources and technology, and connections to courts and experts for a strong personal injury case. Your lawyer can handle complicated legal tasks for you, including lengthy legal paperwork, the claims filing process, accident investigation and evidence collection, while you focus on healing.
After your initial consultation with a Kentucky personal injury lawyer at the Bryant Law Center P.S.C., we will:
Analyze and thoroughly evaluate your claim to begin building your case.
Handle your case every step of the way to help protect your rights.
Investigate the cause of your injuries and collect evidence to determine fault.
Gather all of your medical records and bills to create an accurate picture of your losses.
Negotiate with insurance companies on your behalf.
Help you get the proper medical treatment.
Take your case to court if needed to get you the compensation you deserve.
Personal Injury Cases We Handle
Our law firm handles a variety of personal injury cases in Kentucky including:
How Much Does a Personal Injury Lawyer Cost?
It can vary but our law firm works on a contingency fee basis, which means you don't pay unless we win. Bryant Law Center P.S.C. puts its clients first in how we charge for our legal services. We make high-quality legal representation affordable by working on a contingency fee basis. With this payment arrangement, you won't pay us anything upfront. You will only pay if we win your case, and then only as a percentage of the settlement or judgment award won – not out of pocket. If we do not win your case, you won't owe us a dime.
Should I File a Personal Injury Lawsuit?
Personal injury lawsuits are never something you want to get involved in, but they serve an important purpose. If you've suffered an injury caused by someone else, it shouldn't be your responsibility to cover all of the enormous medical bills, lost wages and other expenses.
The impact that accidents make on a person's life can vary – it could be a minor nuisance or it could be something much worse…life-altering, even. This is why personal injury lawsuits exist. They're a means to make things right for people harmed of no fault of their own.
If you are injured by someone else due to negligence, you can hold them accountable in court and get the compensation you need to help you restore your life back as much as possible.
Four Elements of Negligence
Not all injured accident victims have the right to recover financial compensation through a personal injury case. In most cases, a victim must establish negligence – the failure to exercise an ordinary amount of care. When negligence causes injuries or deaths, the responsible party can be held accountable. It is up to the injured party, or plaintiff, to prove negligence, however. This requires evidence of four key elements:
Duty of care owed
Departure from the duty of care
Direct cause of the injury
Damages suffered
These "Four Ds" of negligence essentially mean that the defendant must have had a responsibility to act toward the victim in a way that a reasonable and prudent party would in the same circumstances.  And violated this duty of care through a careless act or omission, and caused the victim's accident and related losses. To find out if you have a personal injury case in Kentucky, request a free consultation at Bryant Law Center P.S.C.
How Much Is My Claim Worth?
Filing a personal injury claim in Kentucky could end in a financial award being given to you for your related losses. The value of your claim is dependent on many things, such as the nature of your accident and injuries, insurance coverage limits, and total damages. State law allows the recovery of both economic and noneconomic damages. Your economic damages are the financial ways in which the accident impacted you, while noneconomic are the personal or intangible effects.
Your list of losses may include:
Necessary hospital bills and medical care, both now and in the future
Disability accommodations, such as home or vehicle modifications
Required physical therapy and rehabilitation
Medical devices and medications
Damaged, lost or destroyed property
Physical pain, suffering, inconvenience and emotional distress
Loss of consortium, or the loss of a loved one's companionship
Punitive damages, awarded to punish a defendant
The details of your case can be discussed with an attorney to best find out what you're entitled to. It is important to work with an attorney who can create a comprehensive list of losses to submit in a demand letter to an insurance company. An attorney can give you an accurate evaluation of the value of your case and come up with a strategy to pursue maximum financial compensation. We can take a case to trial if this is necessary to achieve the best possible results.
What to Expect During a Personal Injury Case in Kentucky
In Kentucky, the civil justice system holds that an injured accident victim should not have to pay for his or her own medical expenses and other losses if the injury was caused by the negligence, carelessness or recklessness of another party. It offers a way for the victim to hold the at-fault party financially responsible, or liable. When a personal injury claim is filed, the injured victim becomes the plaintiff and the responsible party becomes the defendant.
Upon the filing of the suit, a copy will be sent to the defendant. The defendant will then have the chance to respond, either by accepting liability for the incident and offering a settlement or rejecting the claim. The vast majority of personal injury cases in Kentucky settle, meaning that the insurance company and plaintiff (or plaintiff's attorney) reach an agreement on an amount of money that is acceptable to resolve the legal dispute. A small portion of personal injury cases, however, proceed to trial.
If an insurance company fails to offer a fair amount in financial compensation, the plaintiff may need to go to court to pursue a jury verdict. Although success is not guaranteed in a personal injury trial, a positive verdict could end in greater financial compensation than the low settlement the insurer was offering. It is important to choose a personal injury lawyer with trial experience to prepare for the possibility of a court case.
Contact Our Kentucky Personal Injury Lawyers Today to Learn More
Bryant Law Center P.S.C. has everything you need for a strong personal injury case. If you or a loved one has been injured in an accident in Kentucky, contact us for a free consultation. Our lawyers will sit down with you one-on-one during a free, no-commitment initial consultation to examine the details of your case. We are highly responsive to inquiries and ready to give you the information and advice that you require.
Call (270) 550-1230 or contact us online today to request a free case review. Our local personal injury lawyers are here to help.