Kentucky Motorcycle Accident Lawyers
On a motorcycle is a great way to get around and see the beautiful landscape of our state.  If you are one of the thousands of people who prefer to get around Kentucky by motorcycle, you may also be more at risk to serious injuries in a traffic accident. At Bryant Law Center, our motorcycle accident lawyers understand how overwhelming and difficult things can be for you as a motorcycle crash victim or surviving loved one. We are here to help you get through this traumatic time as painlessly as possible. Discuss how our local lawyers can help you with a motorcycle accident claim during a free case consultation.
Why Choose Us?
We know how to get the most out of a motorcycle accident claim. Our lawyers are experienced in both negotiating with insurance companies to reach a settlement before trial.  And if we have to go to trial, we know how to win a successful verdict for our clients.
Our attorneys care about their clients and are always willing to go the extra mile for them. We represent people, not insurance companies or businesses.
Our Kentucky motorcycle accident lawyers operate on a contingency fee basis. This means you will only pay your lawyer if we are successful in obtaining financial compensation for you.
Do You Need a Kentucky Motorcycle Accident Attorney?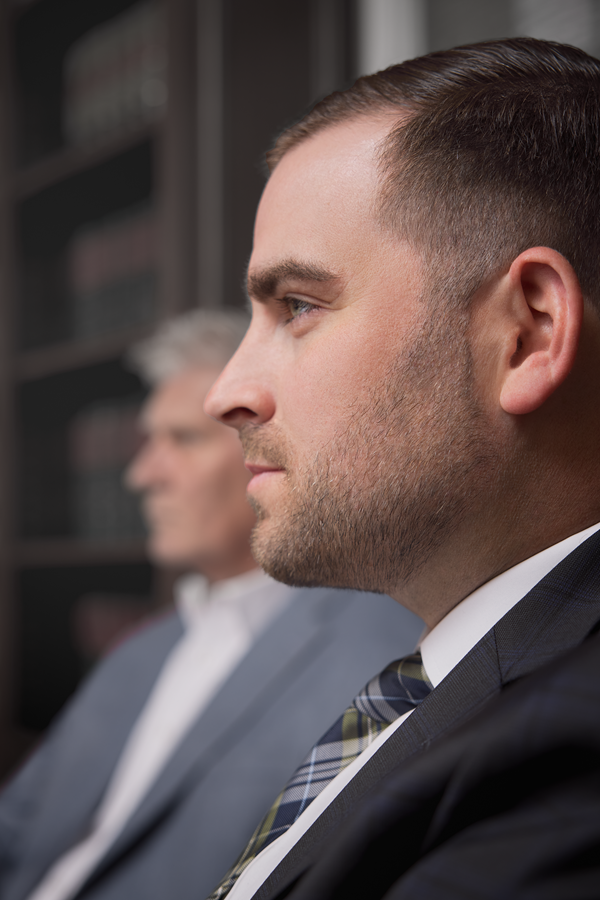 Motorcycle accidents are often catastrophic in the level of injury inflicted on the motorcyclist. For this reason, it is especially important to hire a motorcycle accident lawyer to represent you during a personal injury case in Kentucky. Without an attorney, you are at risk of being taken advantage of by an auto insurance company. Insurance carriers want to save money by reducing client payouts as much as possible. An insurer will be forced to treat you fairly, however, if you hire a lawyer.
With a lawyer by your side, you can be confident that the settlement offer that you accept is fair and reasonable for the extent of your injuries and losses. This can allow you and your family to afford future necessary medical care. A lawyer can take care of complicated legal tasks while you concentrate on healing. This includes investigating the crash, accurately estimating the value of your claim, gathering evidence and speaking to eyewitnesses. Your lawyer can handle the entire legal process for you so that you can focus on your future.
Common Causes of Kentucky Motorcycle Accidents
Every year, motorcyclists in Kentucky suffer serious injuries and pass away in preventable traffic accidents. The risk of getting into a collision is unfortunately high for motorcyclists, largely due to inattentive and careless car and truck drivers. According to the Kentucky Transportation Center's 2020 Crash Facts Report, 1,411 motorcycles were involved in traffic accidents and 85 were killed in Kentucky. Some of the most common causes of motorcycle wrecks in Kentucky are:
Cutting off a motorcyclist at an intersection
Turning into a biker's path
Swerving in front of a motorcyclist
Tailgating a motorcyclist
Failing to notice a motorcycle
Speeding around a motorcyclist
Making unsafe lane changes around a motorcyclist
Improper passing around a motorcyclist
Breaking traffic laws
Driving while distracted
Cell phone use
Driver fatigue
Driving under the influence
In Kentucky, an injured motorcyclist may need to determine fault for an accident before filing an insurance claim. This is because Kentucky's personal injury protection (PIP) insurance requirement does not apply to motorcyclists. If a motorcyclist does not have this insurance, he or she may need to file a lawsuit against the at-fault driver to recover compensation instead.
Motorcycle Accident Injuries Can Be Life-Changing
Motorcyclists are highly vulnerable to serious injuries in accidents. They often only have helmets and the clothes that they are wearing to stand between them and the elements of a crash – and sometimes, not even this. A lack of protection can lead to motorcycle accidents causing life-altering, catastrophic or fatal injuries. At Bryant Law Center, we have the financial resources and staff to handle any type of injury case. We represent motorcyclists with all of the following injuries, and more:
Bone fractures
Soft-tissue and muscle injuries
Sprains and strains
Cuts, scrapes and lacerations
Road rash
Facial, eye and mouth injuries
Lower-extremity injuries
Internal injuries
Head trauma
Neck injuries
Catastrophic injuries
Sadly, many motorcyclists will never recover from their injuries. Motorcyclists are more at risk of fatal injuries in traffic accidents than the general population. In 2020, motorcycle accidents in Kentucky represented 7 percent of all vehicle fatalities, but they accounted for less than 1 percent of all collisions. If you tragically lost your loved one in a fatal motorcycle wreck in Kentucky, Bryant Law Center has wrongful death attorneys who can help you seek justice.
Who Is Responsible for Your Motorcycle Wreck?
In many motorcycle accident cases, the liable party is the one who caused the crash. This is because Kentucky's "choice no-fault" law does not apply to motorcyclists. Motorcyclists are not required to carry PIP insurance coverage, and therefore may be unable to file a first-party claim for damages after an accident. Instead, they may need to hold the at-fault driver accountable through a negligence lawsuit.
Under Kentucky Revised Statute Section 304.39-040, if a motorcyclist does not have PIP coverage, he or she is considered to have accepted the limitations on the right to sue unless the individual files a no-fault rejection form. With this form being filed, the motorcyclist rejects the no-fault rule and reserves the right to file a claim against a third party. You may need an attorney to help you navigate Kentucky's insurance laws after a motorcycle accident.
Statute of Limitations on Kentucky Motorcycle Accident Claims
Anyone who is injured in a motorcycle accident in Kentucky has no more than one year from the date of the accident to file an injury lawsuit. This is Kentucky's statute of limitations, which applies across most personal injury claims. If you file a lawsuit outside of the statute of limitations, it will most likely be rejected in court. If you've been injured in a motorcycle accident in Kentucky, it's essential to contact an attorney at Bryant Law Center as soon as possible to protect your right to recover compensation.
Other Kentucky Motorcycle Resources
Kentucky Motorcycle Laws, Licensing and Safety
Speak to a Kentucky Motorcycle Accident Lawyer Today
If you or a loved one was recently injured in a motorcycle accident in Kentucky, the skilled legal team at Bryant Law Center can help you overcome the challenges associated with your personal injury claim. We have the resources, staff and experience to help you through this trying time, as well as the compassion to make sure that you have everything that you need along the way. Discuss your case in detail with one of our attorneys during a free case consultation. Call (270) 550-1230 or contact us online to speak to a local Kentucky motorcycle accident lawyer.