Kentucky Motorcycle Accident Lawyers
On a motorcycle is a great way to get around and see the beautiful landscape of our state.  If you are one of the thousands of people who prefer to get around Kentucky by motorcycle, you may also be more at risk to serious injuries in a traffic accident. At Bryant Law Center, our motorcycle accident lawyers understand how overwhelming and difficult things can be for you as a motorcycle crash victim or surviving loved one. We are here to help you get through this traumatic time as painlessly as possible. Discuss how our local lawyers can help you with a motorcycle accident claim during a free case consultation.
Why Choose Us?
We know how to get the most out of a motorcycle accident claim. Our lawyers are experienced in both negotiating with insurance companies to reach a settlement before trial.  And if we have to go to trial, we know how to win a successful verdict for our clients.
Our attorneys care about their clients and are always willing to go the extra mile for them. We represent people, not insurance companies or businesses.
Our Kentucky motorcycle accident lawyers operate on a contingency fee basis. This means you will only pay your lawyer if we are successful in obtaining financial compensation for you.
Do You Need a Kentucky Motorcycle Accident Attorney?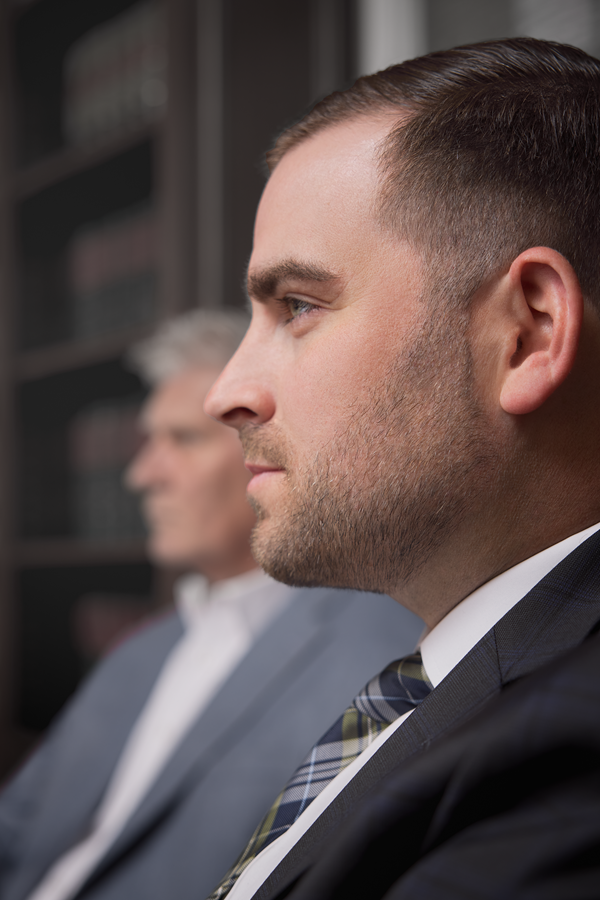 Motorcycle accidents are often catastrophic in the level of injury inflicted on the motorcyclist. For this reason, it is especially important to hire a motorcycle accident lawyer to represent you during a personal injury case in Kentucky. Without an attorney, you are at risk of being taken advantage of by an auto insurance company. Insurance carriers want to save money by reducing client payouts as much as possible. An insurer will be forced to treat you fairly, however, if you hire a lawyer.
With a lawyer by your side, you can be confident that the settlement offer that you accept is fair and reasonable for the extent of your injuries and losses. This can allow you and your family to afford future necessary medical care. A lawyer can take care of complicated legal tasks while you concentrate on healing. This includes investigating the crash, accurately estimating the value of your claim, gathering evidence and speaking to eyewitnesses. Your lawyer can handle the entire legal process for you so that you can focus on your future.
Why Are Motorcycle Accidents So Complicated?
Due to various factors specific to motorcycle accidents, claims tend to be more complicated. If you are involved in a motorcycle accident, a Paducah motorcycle accident lawyer can help navigate your legal options. Some of those reasons motorcycle claims are complicated include:
Visibility and Perception
Motorcycles are smaller and less visible on the road compared to larger vehicles. This can lead to other drivers not noticing motorcycles and, as a result, blaming them for riding recklessly when an accident occurs. 
Serious Injuries
Motorcycle riders are more exposed and have less protection than passenger vehicle occupants. As a result, motorcycle accidents often result in more serious injuries, leading to higher medical bills and more contentious claims.
Lane Splitting and Filtering
In Kentucky, lane splitting (riding between lanes of stopped or slow-moving traffic) is not explicitly legal or illegal. Therefore, determining liability in accidents involving lane splitting can require extensive investigation and evidence of the other party's negligence. 
Road Conditions
Motorcycles are more sensitive to road conditions like potholes, debris, and slippery surfaces. Determining whether road conditions contributed to an accident can convolute liability. 
Less Evidence
Unlike cars with built-in safety features, motorcycles often lack advanced recording systems. This can lead to less available evidence when determining fault.
Skill and Experience
Riding a motorcycle requires a certain level of skill and experience. Inexperienced riders may be blamed for contributing to accidents, and evaluating the rider's proficiency can affect the claims process.
Multi-Vehicle Accidents
Motorcycle accidents can involve multiple vehicles, making establishing fault and liability among different parties challenging.
Helmet Laws
Non-compliance with Kentucky's helmet law can impact liability and compensation.
Insurance Coverage
Motorcycle insurance policies may have different coverage limits and exclusions than car insurance, affecting the available compensation.
Given these factors, motorcycle accident claims often require thorough investigation, expert opinions, and legal expertise to ensure fair compensation and resolution.
Kentucky Motorcycle Laws
Helmet Law
In Kentucky, motorcycle riders who only have a permit, have had a motorcycle license for less than one year, or are under the age of 21 must wear a helmet.
Licensing
Riders must have a motorcycle operator's endorsement on their driver's license or permit to operate a motorcycle. Applicants who are 18 and older must have a motor vehicle operator's license or instructional permit or pass the motor vehicle operator's knowledge test as well as the motorcycle knowledge and skill testing requirements.​
Minors
To apply, riders must be at least 16 years of age, hold a valid intermediate license, and have a parent or guardian willing to sign the application and assume the responsibility. In addition, minors under 18 cannot ride between the hours of midnight and 6 a.m. without a justifiable reason. 
Passengers
Riders who only have a permit cannot carry passengers. 
Eye-Protection
All riders must use an approved eye-protection device. 
Insurance
Motorcycle operators must have a policy with the following limits: 
$25,000 for death or bodily injury to one person;

$50,000 for death or bodily injury to two or more persons; and

$10,000 for damage or destruction of property.
Proving Negligence in a Motorcycle Accident Case
Proving negligence in a motorcycle accident case involves establishing that the at-fault party failed to uphold their duty of care, which directly led to the accident and subsequent damages. Here are the key elements and steps involved in proving negligence in a motorcycle accident case:
Duty of Care
The first step is to establish that the at-fault party (usually another driver) had a duty to exercise reasonable care while driving to avoid causing harm to others, including motorcycle riders.
Breach of Duty
It must be demonstrated that the at-fault party breached their duty of care by acting negligently, recklessly, or failing to follow traffic rules. For instance, if a driver was speeding, distracted, or violated a traffic signal, it could be considered a breach of duty.
Causation
You must establish a direct link between the at-fault party's breach of duty and the motorcycle accident. This means showing that the other party's negligent actions were the direct cause of your collision and subsequent injuries.
Damages
To pursue a negligence claim, you must have suffered actual damages, which can include medical expenses, property damage, lost wages, pain and suffering, and more.
Types of Evidence Needed
Gathering evidence is crucial in proving negligence. This can include photos of the accident scene, eyewitness testimonies, police reports, medical records, and any available surveillance or dashcam footage. In some cases, expert witnesses such as accident reconstruction specialists or medical professionals might be necessary to provide a clear understanding of how the accident occurred and the extent of the injuries.
Types of Compensation Available in a Motorcycle Accident Claim
Here are common types of compensation that may be available:
Medical Expenses
Compensation can cover all medical costs related to the accident, including hospitalization, surgeries, doctor visits, prescription medications, rehabilitation, and ongoing treatment.
Lost Wages
If the accident caused you to miss work or rendered you unable to work temporarily or permanently, you may be entitled to compensation for lost wages and reduced earning capacity.
Pain and Suffering
This type of compensation is meant to address the physical and emotional pain, suffering, and distress caused by the accident and resulting injuries.
Property Damage
Compensation to cover the cost of repairing or replacing your motorcycle and any other damaged property, such as protective gear.
Loss of Enjoyment of Life
If the accident has significantly affected your ability to enjoy hobbies, activities, or social interactions, you may be eligible for compensation for the loss of your quality of life.
Disfigurement and Scarring
Compensation may be awarded for any visible disfigurement or scarring from the accident or medical treatment.
Loss of Consortium
If the accident has affected your relationship with your spouse or family members, they may be eligible for compensation for the loss of companionship, support, marital relations, etc.
Punitive Damages
In cases of extreme negligence or intentional misconduct by the at-fault party, punitive damages may be awarded to punish them and deter similar behavior in the future.
The types of compensation can vary by the specifics of your case. Consulting an experienced motorcycle accident attorney can help you understand what compensation you might be eligible for and guide you through the process of recovering it.
Common Causes of Kentucky Motorcycle Accidents
Every year, motorcyclists in Kentucky suffer serious injuries and pass away in preventable traffic accidents. The risk of getting into a collision is unfortunately high for motorcyclists, largely due to inattentive and careless car and truck drivers. According to the Kentucky Transportation Center's 2020 Crash Facts Report, 1,411 motorcycles were involved in traffic accidents and 85 were killed in Kentucky. Some of the most common causes of motorcycle wrecks in Kentucky are:
Cutting off a motorcyclist at an intersection
Turning into a biker's path
Swerving in front of a motorcyclist
Tailgating a motorcyclist
Failing to notice a motorcycle
Speeding around a motorcyclist
Making unsafe lane changes around a motorcyclist
Improper passing around a motorcyclist
Breaking traffic laws
Driving while distracted
Cell phone use
Driver fatigue
Driving under the influence
In Kentucky, an injured motorcyclist may need to determine fault for an accident before filing an insurance claim. This is because Kentucky's personal injury protection (PIP) insurance requirement does not apply to motorcyclists. If a motorcyclist does not have this insurance, he or she may need to file a lawsuit against the at-fault driver to recover compensation instead.
Motorcycle Accident Injuries Can Be Life-Changing
Motorcyclists are highly vulnerable to serious injuries in accidents. They often only have helmets and the clothes that they are wearing to stand between them and the elements of a crash – and sometimes, not even this. A lack of protection can lead to motorcycle accidents causing life-altering, catastrophic or fatal injuries. At Bryant Law Center, we have the financial resources and staff to handle any type of injury case. We represent motorcyclists with all of the following injuries, and more:
Bone fractures
Soft-tissue and muscle injuries
Sprains and strains
Cuts, scrapes and lacerations
Road rash
Facial, eye and mouth injuries
Lower-extremity injuries
Internal injuries
Head trauma
Neck injuries
Catastrophic injuries
Sadly, many motorcyclists will never recover from their injuries. Motorcyclists are more at risk of fatal injuries in traffic accidents than the general population. In 2020, motorcycle accidents in Kentucky represented 7 percent of all vehicle fatalities, but they accounted for less than 1 percent of all collisions. If you tragically lost your loved one in a fatal motorcycle wreck in Kentucky, Bryant Law Center has wrongful death attorneys who can help you seek justice.
Who Is Responsible for Your Motorcycle Wreck?
In many motorcycle accident cases, the liable party is the one who caused the crash. This is because Kentucky's "choice no-fault" law does not apply to motorcyclists. Motorcyclists are not required to carry PIP insurance coverage, and therefore may be unable to file a first-party claim for damages after an accident. Instead, they may need to hold the at-fault driver accountable through a negligence lawsuit.
Under Kentucky Revised Statute Section 304.39-040, if a motorcyclist does not have PIP coverage, he or she is considered to have accepted the limitations on the right to sue unless the individual files a no-fault rejection form. With this form being filed, the motorcyclist rejects the no-fault rule and reserves the right to file a claim against a third party. You may need an attorney to help you navigate Kentucky's insurance laws after a motorcycle accident.
Statute of Limitations on Kentucky Motorcycle Accident Claims
Anyone who is injured in a motorcycle accident in Kentucky has no more than one year from the date of the accident to file an injury lawsuit. This is Kentucky's statute of limitations, which applies across most personal injury claims. If you file a lawsuit outside of the statute of limitations, it will most likely be rejected in court. If you've been injured in a motorcycle accident in Kentucky, it's essential to contact an attorney at Bryant Law Center as soon as possible to protect your right to recover compensation.
Other Kentucky Motorcycle Resources
Kentucky Motorcycle Laws, Licensing and Safety
Speak to a Kentucky Motorcycle Accident Lawyer Today
If you or a loved one was recently injured in a motorcycle accident in Kentucky, the skilled legal team at Bryant Law Center can help you overcome the challenges associated with your personal injury claim. We have the resources, staff and experience to help you through this trying time, as well as the compassion to make sure that you have everything that you need along the way. Discuss your case in detail with one of our attorneys during a free case consultation. Call (270) 550-1230 or contact us online to speak to a local Kentucky motorcycle accident lawyer.