Kentucky Motorcycle Laws, Licensing and Insurance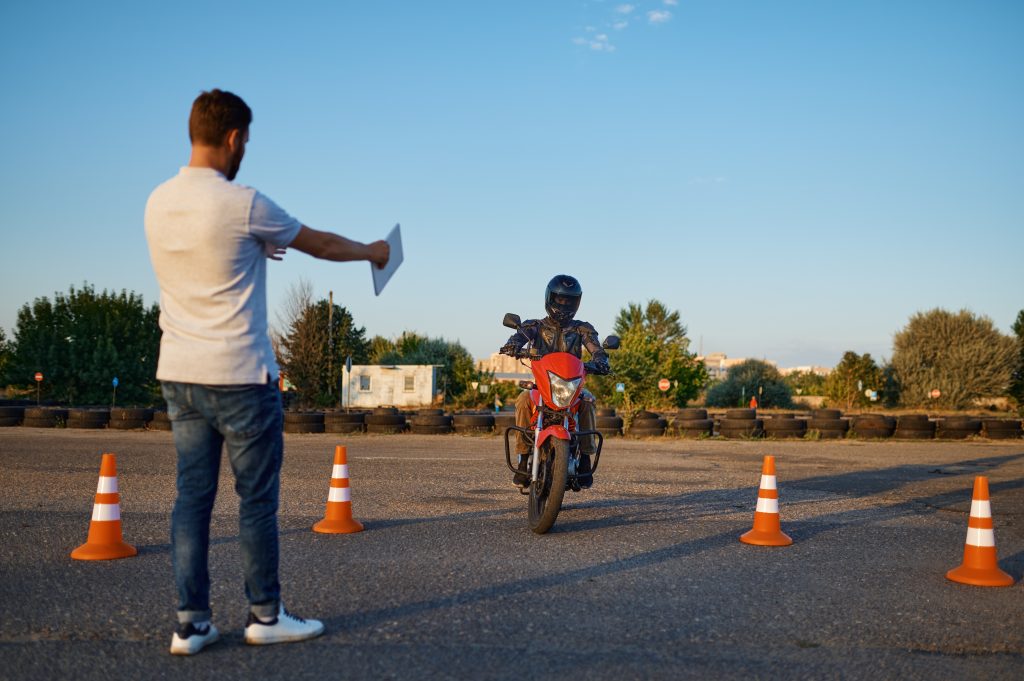 On a motorcycle is a great way to get around and see our state's beautiful landscape, from the mountains of Eastern Kentucky to the Land Between the Lakes in Western Kentucky. If you are one of the thousands of people who prefer to get around Kentucky by motorcycle, you need to know Kentucky motorcycle law.
Do You Need a Kentucky Motorcycle License?
To operate a motorcycle on any public roadway in Kentucky, a person must have a valid motor vehicle operator's license with a valid motorcycle operator's endorsement, a motorcycle license, or an instruction permit.  A person may be required to take the written test for the Motorcycle Rider Education Program at the local Circuit Court Clerk's office to get an instruction permit even if they have completed an equivalency course.
You should obtain a motorcycle permit before taking any equivalency courses. A course can take the place of the road test, but you will still need to hold a motorcycle permit for the allotted time before you can use course certification to obtain a license.  For more information see the Kentucky State Police's publication created for those wanting motorcycle license at Kentucky Motorcycle Manual.
Kentucky Motorcycle Operator's License
Motorcycle permits and licenses are issued at any Driver Licensing Regional Office or the Circuit Court Clerk's office in the Kentucky County of residence. Anyone who wishes to operate a motorcycle in Kentucky must first obtain a motorcycle operator's license.  As of May 2022, some Circuit Court Offices no longer handle licensing, and you will need to go to the Regional Office.  You must be at least 18 or hold a valid operator license to apply for a motorcycle permit. Applicants for a motorcycle license permit under 18 years old must have a parent or legal guardian willing to assume the responsibility and sign the application for a license.  The Kentucky State Police also has available an online Kentucky Motorcycle Operators Manual.
Applying for a Kentucky Motorcycle Permit
To apply for a motorcycle permit, a person must be at least 18 years of age or hold a valid operator's license.  Anyone under 18 years of age must have a parent or legal guardian willing to assume the responsibility for the applicant, even if the parent or legal guardian has already signed a driver's license application allowing the minor to drive a moped or automobile.
When an applicant does not have a living parent or legal guardian, the instruction permit must be signed by another party willing to assume responsibility for the applicant.
Applications must be filed in the person's county of residence at the Circuit Clerk's office unless the circuit clerk gives written permission to take the examination in another county. The State Police agree to make arrangements for the examination.
Kentucky Motorcycle Helmet Laws
 A person can operate a motorcycle without a helmet in Kentucky only if they are 21 years of age or older and have had a motorcycle license for at least one year. Passengers must also be 21 years of age or older to ride without a helmet legally.  All motorcyclists – operators and passengers – under 21 years of age are required to wear helmets. Helmets are recommended for all operators and passengers on motorcycles to help prevent serious head injuries in motor vehicle accidents.
Kentucky also requires motorcyclists to use approved eye protection devices while vehicles are in motion. Motorcycles must be equipped with rear-view mirrors.
Other Required Motorcycle Equipment
Permanently attached seat & footrest
Rearview mirror
One headlight (high and low beams)
Taillight
Horn
Muffler and tailpipe
Front and rear brakes
Brake light
Good tires
Turn signals (if part of factory equipment)
Proof of liability insurance
Registration
Wearing a helmet if you're over 21 is optional in Kentucky. However, if you're in an accident, the fact that you weren't wearing a helmet could negatively impact your potential insurance settlement. Insurance companies will frequently argue that they are not obligated to cover specific injuries stemming from a lack of helmet protection. It's another good reason why you should always have an experienced motorcycle accident attorney to fight for your rights.
Motorcycle Training & Safety Resources
We highly recommend that first-time motorcycle owner or rider go to the Motorcycle Safety Foundation website.  The MSF is a national, not-for-profit organization promoting the safety of motorcyclists with programs in rider training, operator licensing and public education.   The MSF has over 23 online Rider Courses you can take to brush up on your motorcycle safety skills.  And taking some of their training courses may also get you a discount on your motorcycle insurance.
The State of Kentucky also has a website for Motorcycle Rider Education at www.ride.ky.gov.   The program is administered through the Kentucky Transportation Cabinet's Office of Highway Safety and is overseen by the Motorcycle Safety Education Commission which manages the Motorcycle Safety Education Program (MSEP).
The Motorcycle Safety Education Program (MSEP) promotes safety by establishing rider training courses throughout the state. The program increases awareness of motorcyclists' knowledge of the effects of alcohol and drugs, develops driver improvement efforts, conducts program promotion activities, enhances the public's awareness of motorcycles, and promotes motorcycle safety through education.  MSEP is operated and maintained by the Kentucky Office of Highway Safety and funded by the Division of Driver Licensing from motorcyclist fees, motorcycle licenses, permits, and registrations. MSEP rider education and training courses follow nationally established guidelines.
After completing an MSEP course, the motorcycle skills test may be waived per KRS 186.875. Once the driver completes an approved motorcycle safety course, they must bring their course completion paperwork to the licensing branch. However, the applicant must have taken the written test and held a motorcycle permit for at least one calendar month before issuing a motorcycle license.
 Motorcycle Insurance Guide:  5 Things You Need to Know
 Motorcycles are vehicles with the same rights and privileges as any vehicle. Unfortunately, almost 50% of all motorcycle crashes involve another vehicle. Nearly 40% were caused by the other vehicle turning left in front of the motorcyclist.  The Bryant Law Center can give you a Free Consultation about your motorcycle insurance coverage to make sure you are fully covered.
You will need a separate Motorcycle Insurance policy. And Ask about PIP Coverage. While Personal Injury Protection is automatic coverage on your auto policy, it is usually not included in your motorcycle insurance policy. You will have to request it and pay for it specifically. We recommend that you do.
If you have an accident and do not have PIP coverage, you will be deemed self-insured for the first $10,000 of medical bills and wage loss you incur, even if it was 100% the other driver's fault!
If your policy says "pedestrian PIP," know that this does not cover your injuries. It covers only covers pedestrians involved in your accident.
Approximately 15% of all motorists on the road in Kentucky do not have insurance. Get as much Underinsured and Uninsured Motorist Coverage as you can afford.
If you customize your motorcycle, make sure to keep all receipts to prove the value of those additions. You can also purchase a specific policy to insure your motorcycle for its worth.
Other Tips After a Motorcycle Accident
 You don't have to talk to the other party's insurance company. Whether they want you to sign an authorization for medical records or get your statement, you are not required to talk to them. Talk to our Motorcycle Accident Attorneys at the Bryant Law Center before saying or signing anything.
You can get your motorcycle repaired at your preferred location. You do not have to use the provider that the insurance company recommends. You need to go to a reputable person who knows what they're doing.
People should have their motorcycles regularly maintained to ensure that all mechanical equipment is properly working before they hit the road. Certain defects or failure to maintain equipment can lead to various possible accidents.
Have You Been Injured in a Motorcycle Accident?
 Did you sustain catastrophic injuries, or was your loved one killed in a motorcycle accident in Kentucky?  At Bryant Law Center, our Motorcycle Accident Lawyers understand how overwhelming and difficult things can be for you as a motorcycle crash victim or surviving loved one. We are here to help you get through this traumatic time as painlessly as possible. Discuss how our local lawyers can help you with a motorcycle accident claim during a Free Case Consultation.
 Why Choose the Bryant Law Center?
We know how to get the most out of a motorcycle accident claim. Our Motorcycle Accident Attorneys are experienced in both negotiating with insurance companies to reach a settlement before trial.  And if we have to go to trial, we know how to win a successful verdict for our clients.
Our attorneys care about their clients and are always willing to go the extra mile for them. We represent people, not insurance companies or businesses.
Our Kentucky motorcycle accident lawyers operate on a contingency fee basis. This means you will only pay your lawyer if we are successful in obtaining financial compensation for you.
Don't Drink and Ride
We strongly recommend against drinking and riding. Statistics from the Kentucky State Police show  that 40 to 45 percent of all motorcyclists killed in crashes were drinking alcohol before they were riding. Like many other states, Kentucky has a blood alcohol concentration (BAC) limit of 0.08 percent for motorcyclists 21 years of age or older. The limit is only 0.02 percent for minors.
Suppose you've been in an accident and your blood alcohol concentration shows you were under the influence? In that case, it reduces your ability to secure compensation to cover your injuries and lost wages from the insurance company.
Other Kentucky Motorcycle Resources
Kentucky Motorcycle Accident Attorneys