Motorcycle Safety in Kentucky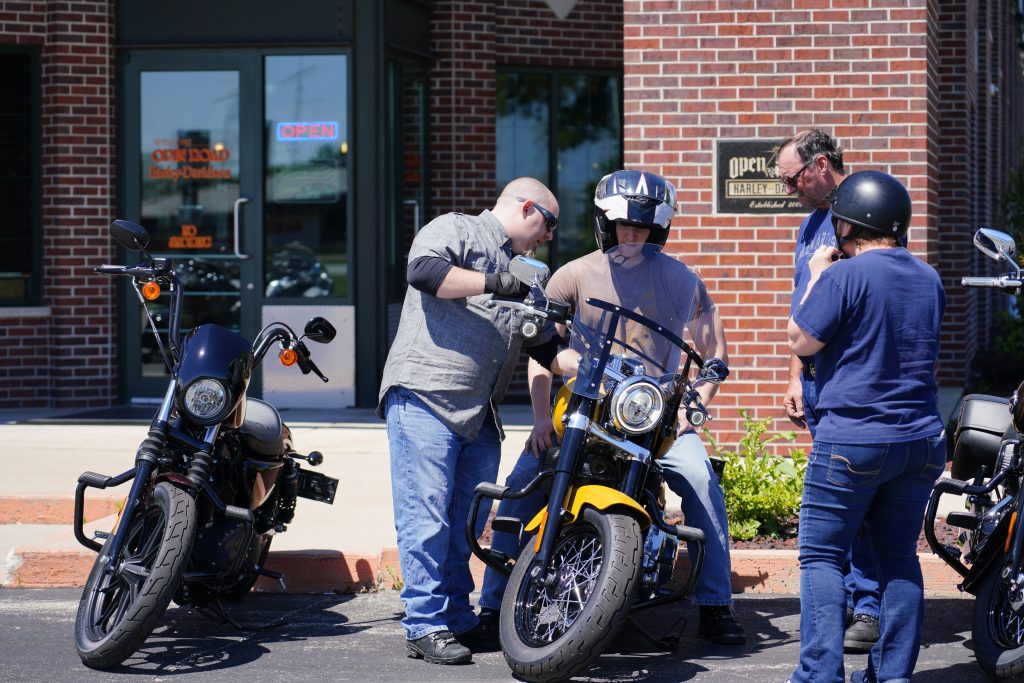 Riding a motorcycle can be an exciting experience, but it can also be risky if not riding safely. Due to the smaller profile of motorcycles, they can be more easily overlooked on our roads and end up in an accident due to another driver's fault. This means motorcycle safety in Kentucky actually can be life and death. Make sure you're always safe to ride.
Suppose you have any questions about safe motorcycle operations or what to do in the event of an accident. In that case, a knowledgeable motorcycle accident lawyer with the Bryant Law Center can help you understand the specific laws regarding motorcycles and also give you advice on what to do about motorcycle insurance.
Wear the Proper Gear and Equipment
The most critical safety equipment any motorcyclist in Kentucky can have is a protective helmet. While wearing a helmet in Kentucky is optional by law for those 21 years of age or older, we still highly recommend it. All motorcyclists – operators and passengers – under 21 are required to wear helmets.
You should also have a face shield or goggles to protect your eyes.
In addition, the Kentucky Department of Motor Vehicles recommends that all motorcyclists wear clothing made of sturdy material like leather than can help protect their skin from abrasions if they end up in a crash. Both jackets and pants should have long sleeves and be close-fitting to reduce the risk of clothing getting caught in any vital motorcycle components.
To increase your visibility to other drivers, consider wearing high-visibility clothing during the day, like green or orange, and wear reflective clothing at night.
The Kentucky DMV also recommends wearing durable gloves with a good grip and closed-toed shoes that cover the ankles and do not have laces. This may be quite a bit of clothing in summer, so if temperatures are an issue, you can look for specially designed jackets with rugged padding and breathable mesh material that provide safety and ventilation in warm weather.
Lastly, helmets can deteriorate over time and maybe unsafe even if they look fine, especially if it has already experienced a crash.  Once your helmet has been in a crash, it's a good idea to replace it.
Be Prepared to Ride:  Take the Safety Education Program and Get Your License
There's a big difference between driving a car and riding a motorcycle. Your local motorcycle dealer most likely offers a rider training course or program. Kentucky also has a Motorcycle Safety Education Program (MSEP) taught throughout the state, which must be completed before applying for the required motorcycle license.
For a list of course descriptions and providers, please visit www.ride.ky.gov.​
Once the driver completes an approved motorcycle safety course, they must bring their course completion paperwork to the licensing branch. However, the applicant must have taken the written test and held a motorcycle permit for at least one calendar month before issuing a motorcycle license.
Ensuring Operational Safety
Even if a rider is dressed for safety, the protective clothing might not help if the motorcycle isn't fit for safe operation. Before starting a trip, motorcyclists should ensure their headlights, taillights, brake lights, and turn signals are functioning properly, and that tires are appropriately inflated.
Motorcycle owners should also seek regular maintenance and tune-ups for their vehicles from a trustworthy and professional mechanic.
According to the Insurance Institute for Highway Safety, anti-lock brakes are now available on a wide range of motorcycle models, and they're a proven lifesaver. ABS brakes allow the driver to retain steering control during emergency stops and slippery conditions.
We'd also recommend that you check the weather before setting out.
Staying Safe on the Roadway
Motorcycles have the same rights and privileges as any vehicle. Unfortunately, when motorcyclists are in collisions, many times it's caused by other drivers. Collisions between cars making left-hand turns and motorcycles are common and often deadly. In 2019, NHTSA reported that in nearly half of all fatal crashes involving a car and a motorcycle, the vehicle was turning left at the time of the crash. As a motorcyclist, you should be extra alert.
Always use a turn signal to alert other vehicles that you're turning.  And because turn signals on a motorcycle may be overlooked, we'd also recommend that you use hand signals if you can to alert drivers around you of your intent to turn.  Another critical step for a motorcyclist is to avoid blind spots of trucks and cars. This can substantially reduce the risk of another vehicle merging into them or cutting them off on the road.
Furthermore, we highly recommend maintaining a safe distance between your motorcycle and other vehicles. Maintaining a safe following distance is also important to ensure you have enough stopping distance and time to react to obstacles on the road.
Traffic can stop abruptly or change patterns quickly, and traveling too closely can cause collisions with catastrophic injuries.
And lastly, look out for newly cut grass on the roadway. Unfortunately, not all homeowners understand that blowing cut grass out into the road significantly reduces your traction to the point where it's like riding on ice.
Speak with a Bryant Law Center Attorney about Motorcycle Safety Practices
No matter your prior riding experience or confidence in your driving abilities, following safety rules and procedures can make a difference in whether you can walk away from an accident. If you want to learn more about motorcycle safety in Kentucky, get in touch with one of our qualified accident lawyers today for a free consultation.
Other Kentucky Motorcycle Resources
Kentucky Motorcycle Accident Attorneys