Bryant Law Center and Partner Emily Roark Win 2021 West Kentucky Star People's Choice Awards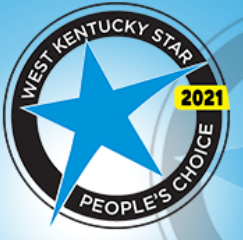 Emily Roark won Best Attorney with Mark Bryant himself coming in second. And he couldn't be prouder.
"Emily's great! I'm just good," said Mark upon learning of the rankings. Mark has traditionally won the Best Attorney category in the past.
The Bryant Law Center also won for Best Law Firm 2021. This marks the 6th year in a row that Bryant Law has been awarded this honor.
"We want to thank all our clients for continuing to make the Bryant Law Center an award-winning firm. Thank you for your continued support. We couldn't be where we are without you," said Mark.
This is in addition to winning the Paducah Sun Best Law Firm and the US NEWS and WORLD REPORT "Best Law Firms" 2021 list as one of the best firms for personal injury.