Kentucky Boating Safety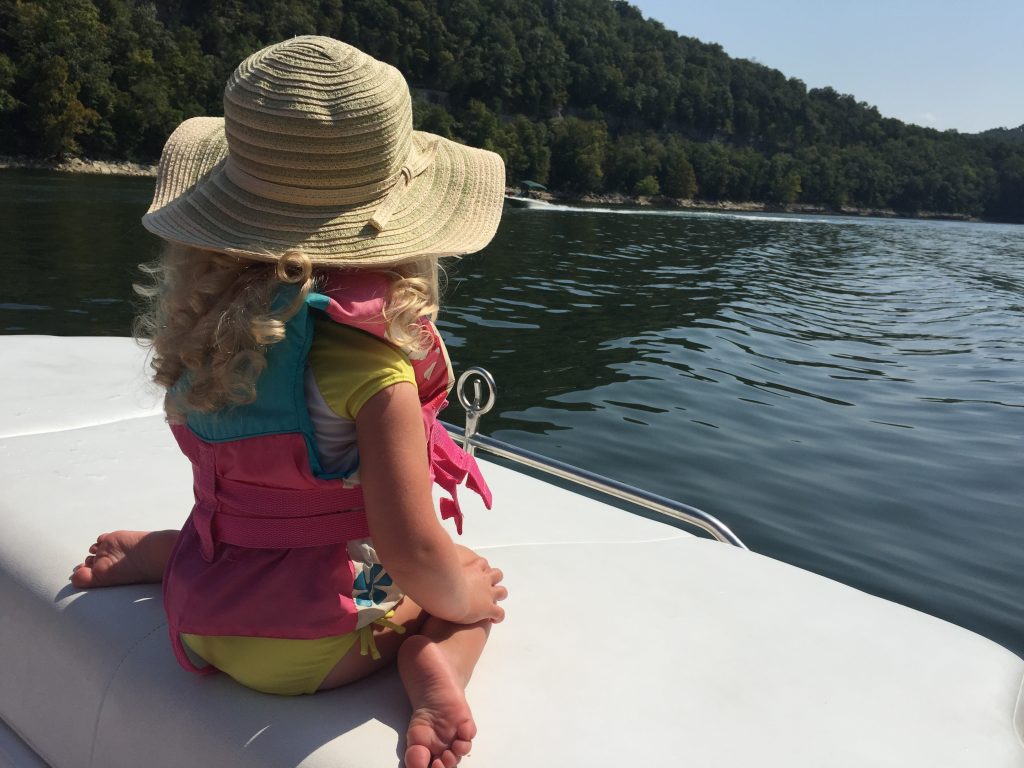 From world-class boating to record-setting fishing to swimming, skiing and other water sports, Kentucky's lakes and rivers offer exciting outdoor recreation and fun.  Kentucky's waterways are also a valuable transportation resource, providing a link to move millions of tons of cargo between the Great Lakes, Canada, Mexico, and the Panama Canal.
Kentucky has over 90,000 nautical miles of streams, rivers and lakes which makes Kentucky a great place for recreational boating.   Over 156,000 vessels are registered in Kentucky with most being recreational boats.  To be a responsible boat owner in Kentucky, you should know Kentucky's regulations regarding boating registration, licensing, safety and navigation.  In Kentucky, boating is regulated by the Kentucky Department of Fish and Wildlife Resources.  Here's a link to their website with information on Boating Safety and Boater Education.
Boating on Kentucky's many lakes and rivers can be enjoyed safely with the appropriate precautions.
Personal Flotation Devices
Using a Personal Flotation Device (PFD) is critically important when you're on the waters.  In 2020 in the U.S., of the boating accident fatalities who drowned, 86% were not wearing a life jacket.
All boats must have USCG-approved personal flotation devices (PFDs or life jackets). The quantity and type depend on the length of your boat plus the number of people on board. Each PFD must be in good condition, be the proper size for the intended wearer, and be readily accessible. Readily accessible means you must be able to put the PFD on in a reasonable amount of time in an emergency.  Persons under 12 years of age must wear a PFD while in the open part of a boat that is under way.
PFDs should not be stowed in plastic bags or locked or closed compartments, and they should not have other gear stowed on top of them.  Boat operators should ask everyone on their vessel to wear a PFD whenever on the water.
Operators and passengers of personal watercraft (PWC) like jet-skis and wave runners must wear a PFD.
Causes of Kentucky Boating Accidents
In 2020 in the U.S., across all boating accidents, operator inattention was the leading cause of the accident.  In boating accidents with fatalities, alcohol use was the leading known contributing factor.
In Kentucky in 2020, over 44 boating accidents occurred causing over $1 million in damage and resulting in 9 fatalities according to the 2020 Recreational Boating Statistics published by the  Department of Homeland Security.
Kentucky boating accidents can be caused by many situations including:
Operator inattention and no lookout when skiing or tubing
Use of alcohol and drugs
Excess speed
Reckless operation and failure to follow navigational rules
Lack of experience of operators, inadequate training & operator error
Boat overcrowding
Colliding with rocks, sandbars or docks.
Lack of protection for riders
Kentucky law prohibits anyone from boating while intoxicated (BWI)— operating a boat, PWC, or water-skiing while intoxicated or under the influence of any substance that impairs a person's driving ability. Alcohol is a significant contributor to boating accidents and fatalities.  Kentucky law states a person is legally intoxicated if the concentration of alcohol in their blood is 0.08% or more.
Reckless operation is another issue in Kentucky boating accidents.  The boat operator can be negligent if they fail to exercise the care necessary to prevent the endangerment of another person or their property. Examples are:
Weaving your boat through congested water traffic
Following behind another boat towing a person on skis, surfboard, etc.
Cutting between a boat and the person being towed by that boat.
Jumping the wake of another boat in a way that endangers another's life, safety, or property
Enforcement of Kentucky Boating Laws
KDFWR officers and all other peace officers enforce the boating laws of Kentucky. USCG officers also patrol and have enforcement authority on federally controlled waters.  Officers have the authority to stop and board your vessel to check that you comply with state and federal laws.  It is illegal to refuse to follow the directive of a person with law enforcement authority. An operator who has received a visual or audible signal from a law enforcement officer must bring their vessel to a stop.
What to Do If You've been Hurt in a Boating Accident?
These are the immediate steps you should take if you've been hurt in a boating accident.  These will help preserve your right for compensation.
You should seek medical attention quickly after being hurt in a boating accident.  Many times symptoms will not be immediately apparent so it's important to get checked out by your doctor.
Photograph the scene if you can.  In boating accidents, many times the problem is that evidence sinks below the water so as soon as you can, video or take pictures of the property damage and your injuries.
Gather contact information for witnesses and anyone else involved in the boating accident, including people on the other boat if there was one.
Contact a Kentucky Boating Accident Attorney  at the Bryant Law Center who can help you through the process of filing an insurance claim, and deal with the insurance company and any potential lawsuits while you rest and heal.
Who Is Liable in a Kentucky Boating Accident?
Liability for boating accident injuries will depend on the circumstances surrounding the accident. There could be multiple potentially responsible parties, including:
Operator or owner of a boat if you were a passenger
Operator or owner of a boat that hit yours
Manufacturer of the boat in case of machinery failure
Manufacturer of defective floating devices
Dock owner
Any party that negligently contributed to your injuries
Kentucky Boating Accident Attorneys
If you've been injured in a recreational boating accident in Kentucky, it's critical to take steps to preserve your right to fair compensation.   If you need assistance with a boating accident claim, our experienced personal injury attorneys at the Bryant Law Center can help.  We're experienced in Kentucky personal injury cases and can get started on your case today.  The Kentucky statue of limitations begins on the day of the accident and the injured person has one year from that date to file a claim.
Call (270) 550-1230 for a no-obligation free consultation.