Rental Car Perils: 3 Ways to Protect Yourself When Using a Rental Car After an Accident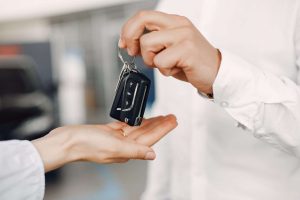 Drivers unfortunate enough to have been hit by a negligent motorist are confronted by many important decisions and options, some seemingly more urgent than others.
The immediate options relate to receiving medical treatment if you are injured and your diagnosis or prognosis for future medical treatment or impairment.
But securing reliable transportation if your vehicle has been severely damaged or destroyed by a negligent driver can be a lifeline to getting to work or school or childcare.
The common solution is a rental car or van. But protect yourself to avoid future perils.
Many insurance policies will cover reasonable rental car expenses while your vehicle is being repaired or you are waiting for an adjuster to estimate damages and whether your vehicle will be repaired or replaced.
Just because an insurance company will cover your rental car expenses does not relieve you of responsibility for the rental car, however. You can reach out to one of our car accident lawyers if you have any questions about things.
Below we've listed out 3 things to look out for or consider when renting a vehicle to protect yourself from further costs and liabilities.
Inspect the Rental Car and Note Any Pre-Existing Damage
The rental company – even after the insurance company secures the rental car – may require you to post a small security deposit usually from $50 to $200.
With an estimated 2 million rental cars on the road, accidents and damage are inevitable. There are options to protect yourself.
Be present and pay close attention to the initial walk around inspection when you and a rental car employee will look for any pre-existing damage (small dents, scratches, stains, missing items such as a spare tire or jack or trim pieces).
It also could be useful if you simply take a few pictures to verify the condition.
Choose a Rental Car Insurance Option
While the insurance company may pay for the rental through a voucher, it's up to the renter to provide insurance coverage.
The rental car company will offer a collision damage waiver that covers any damage that may occur. However it is expensive, often equal to or near the daily rental price.
Your own insurance may cover you in a rental car, but you will be liable for any deductibles such as the first $1,000.
There are also third party rental insurance providers.
Be Present at the Rental Car Return Inspection
An area to pay close attention to is the rental vehicle return.
Leading rental companies like Enterprise have open lots. Renters wanting to return a vehicle after the office has closed can still drop their vehicles off and park them in the lot and either put the keys in a secure dropbox or lock them in the car.
That scenario does not always have a happy ending.
You are still responsible for the car until its return inspection and if it is somehow damaged on the lot, you may be held liable. It is a good idea to photograph the vehicle before you return it and avoid after hours returns.
As a rule of thumb, you are relieved of responsibility after the return check-in and inspection.
But there are many consumer complaints about being charged for hidden items such as the undercarriage, damaged suspension, lower trim panels, or engine or transmission components that were not inspected during the return.
Not only can the rental company charge you for the repairs, it may also charge you for lost business – being unable to rent the car while it's being repaired – and diminished vehicle value and various fees for processing the claim.
Conclusion
Rental cars after an auto accident may not seem like a big issue and usually it is not. But there are steps you should take to avoid mistakes that can leave you on the hook for any damages.
Always be present during the pre-rental inspection and take pictures of any pre-existing damage to the vehicle.
Make sure you are properly insured in your rental car. This insurance may be purchased through the rental company, under your own insurance, or through a third party.
Finally, return the vehicle when the rental office is open so they can inspect it with you present.