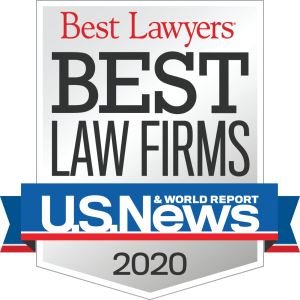 For the fifth consecutive year, The Bryant Law Center in Paducah, Ky has been recognized and been named a 2020 Best Lawyers Best Law Firm by US News and World Report. The 2020 US News and World Report rankings incorporate 7.8 million evaluations of more than 110,000 individual leading lawyers from more than 15,000 firms.
Founded in 1990 the firm's seven attorneys led by Mark Bryant are among the region's premier trial law firms focusing on injuries that impact hundreds and in some cases thousands of people across the United States.  
A History of Successful Representation
We have successfully handled train derailments in several states, while assisting hundreds of clients with defective drug, medical device and product liability litigation. We have represented local governments in three states in opioid litigation and have twice represented the Commonwealth of Kentucky in major cases involving savings bonds and birth control litigation. 
We have recovered damages for victims of nursing home neglect, emotional, sexual and clergy abuse. Our attorneys also provide the legal services you would expect of a local Kentucky law firm, including car accidents, wrongful death, workers' compensation, family law and criminal defense. 
The Bryant Law Center has nearly three decades of local service. We are passionate advocates for our clients and we demand that standards of equality and fairness be upheld.