Kentucky Personal Watercraft Accidents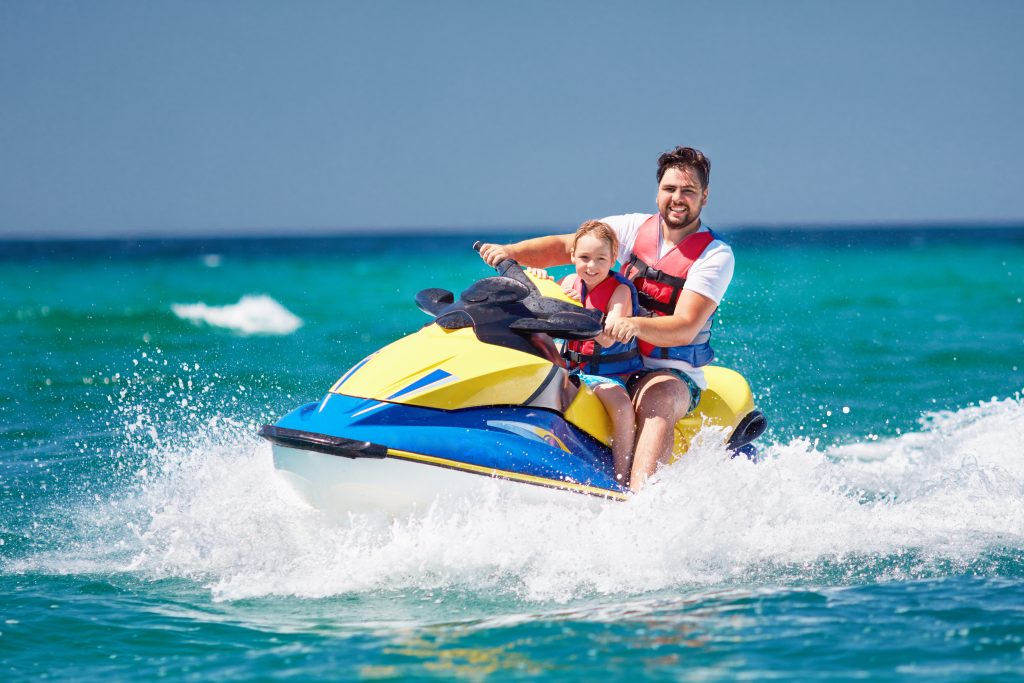 Personal watercraft (PWC) and jet skis are a great recreational way to have fun on Kentucky's many lakes and rivers. PWC and jet skis have been described as "the motorcycles of the water" because, like a motorcycle, the experience offers more fun and freedom.
And with PWCs now the fastest-growing segment of the boating industry, there are even more PWC and jet skis on our lakes and rivers.
Unfortunately, the number of PWC accidents in Kentucky are also increasing, many with severe injuries or even death.
If you or a loved one has been injured in a PWC accident, you need to contact our experienced personal injury attorneys for a no-obligation free consultation.
Common Causes of PWC and Jet Ski Accidents
One of the most frequent accidents in Kentucky is a collision with another boat or PWC on the water. A few other causes of accidents with PWC or jet skis include:
Personal watercraft or jet ski mishaps;
Speeding and recklessness;
Operator inexperience;
Rowdy or poorly behaved passengers;
Running into a skier, tuber, or running over swimmers in the water;
Running into a dock, hitting a sandbar;
Running a PWC onto a beach; and
Operating in hazardous weather.
 Responsibilities for PWC Operators
In addition to adhering to all boating laws, PWC operators have requirements specific to their watercraft.   Everyone on board a PWC must wear a USCG-approved personal flotation device.
PWC may be operated only during daylight hours (between sunrise and sunset). And just like boat operators, PWC operators must act responsibly. In Kentucky, it is illegal to:
Weave a PWC through congested waterway traffic;
Steer toward another object or person in the water and swerve at the last possible moment to avoid a collision;
Follow behind another vessel towing a person(s) on water skis, surfboard, or similar device;
Cut between a boat and the person(s) towed by that vessel;
Jump the wake of another boat in a way that endangers another's life, safety, or property;
Cross the path of another boat when visibility is obstructed; and
Operate within 50 feet of a commercial vessel and its tow rope.
 Who Can Be Sued After a Kentucky Personal Watercraft or Jet Ski Accident?
Jet ski accidents occur for various reasons, including alcohol or drug consumption, negligence, inexperience, and carelessness. Due to the nature of personal watercraft, an accident can have potentially fatal consequences.
If you or a loved one has been injured in a boat, PWC, or jet ski related accident, contact us to discuss your legal options. We offer a no-obligation free consultation.
The Operator of the PWC
In most cases, the driver of the PWC who hit you is responsible for the damages.
The Owner of the PWC
If the driver of the PWC is not the same as the owner, this puts the owner on the hook, too. If the owner allowed someone else to use their PWC and the driver subsequently caused damage or even death to someone else, the owner, including PWC and jet ski rental companies, can be held responsible for damages.
A Restaurant or Bar that Served Alcohol
There are dram shop laws that hold restaurants and bars accountable for over-serving patrons that go on to cause damage or injury to others. If the PWC operator was intoxicated or above the blood alcohol limit, you might be able to sue the establishment.
Rowdy Passengers
If the PWC operator was distracted by rowdy or misbehaving passengers, they too could find themselves at the receiving end of an injury lawsuit.
Statute of Limitations for Boating Accident Lawsuit
Under Kentucky law, most boating accident lawsuits must be filed within one year from the date of the injury.
In other words, the clock on the statute of limitations begins ticking on the date of the accident, and the injured person has one year from that date to file a civil lawsuit. However, always know that each case is fact specific and other statutes of limitations may also apply to your case. It's best to get the advice of an experienced attorney.
For more information on boating accidents and safety, see our Kentucky Boating Safety blog.
Contact a Kentucky Personal Injury Lawyer
If you or a loved one has suffered a traumatic PWC or jet ski accident, contact our experienced Kentucky personal injury lawyers at the Bryant Law Center by calling (270) 550-1230 or fill out our webform for a no-obligation free consultation about your case.