ATVs Insurance Laws in KY
By Kevin Shannon
The popularity of ATVs seems to be growing every year. Owners and users of ATVs enjoy their versatility as both tools for work and as forms of recreation. They are no longer ridden only by off-road enthusiasts. Instead, they seem to be everywhere.  If you are an owner or a user of an ATV, you need to be aware of Kentucky law regarding the operation and use of ATVs.  You also need to be familiar with insurance issues relating to the ownership and use of ATVs.
Kentucky statutory law on ATVs is fairly limited. In large part, all of Kentucky's statutory law regarding ATVs is set forth in KRS 189.515. The statute essentially sets forth the who, what, when, where, why, and how of lawful ATV use in the state.
Kentucky ATV Statute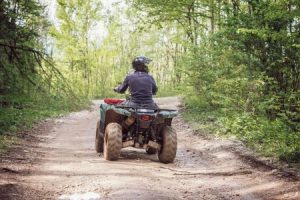 As with most laws, Kentucky's statute sets forth both the law and exceptions to the law.   Here's a brief summary that should be helpful to Kentucky ATV owners and riders.
With only a few specific exceptions, ATVs are not to be operated on public highways, roadways, and rights-of-way in Kentucky.
ATVs may be operated on private property only with the consent of the owner, tenant, or person responsible for the property.
ATVs may be operated on public property only with the approval of the governmental agency responsible for the property.
Persons under the age of 16 shall not operate an ATV with an engine size exceeding 90 cc.
Persons under the age of 12 shall not operate an ATV with an engine size exceeding 70 cc.
Persons under the age of 16 must wear approved protective headgear while operating or riding as a passenger on an ATV.
All persons operating ATVs on public property must wear approved protective headgear.
Persons under the age of 16 shall not operate an ATV, except under direct parental supervision.
A person may operate an ATV on any two-lane public highway in order to cross the highway as long as they cross as close to a 90-degree angle to the highway as is practical and safe.
Lawyer or not, certain basic points should now be clear to any owner or operator of an ATV. Owners must know the age of the rider and the size of the ATV before allowing anyone to ride. Never let a young person operate an ATV that is too big and powerful for them to legally operate. Beyond that, never let an inexperienced person operate an ATV.
Operators under the age of 16 must be subject to direct parental supervision, not just adult supervision. Helmets are not just a good idea, they are required by law in many instances. Last, but not least, ride only off-road with the consent or permission of the property owner.
Although following the law may decrease the number of ATV accidents, it will not prevent them. Accidents are bound to happen. With that fact of life in mind, a prudent owner should consider whether he or she has insurance coverage for ATV accidents and, if so, whether the coverage is sufficient.
What Insurance Covers ATVs and their Riders?
In my experience, many people assume that their automobile insurance or their homeowner's insurance will provide coverage to them in the event of an ATV claim. Although some companies and some policies may provide limited coverage to ATVs, that is not usually the case. To the extent they may, the exceptions in the policy will tend to take the apparent coverage away. For example, most automobile insurance policies will specifically exclude coverage for ATVs and most homeowner's insurance policies exclude coverage for accidents which occur off the owner's own property.
Owners and users of ATVs can eliminate some of the uncertainty about insurance coverage by simply purchasing ATV insurance. ATV insurance policies can be as simple as a liability policy which will provide protection to an ATV owner or operator when someone is injured as the result of an ATV accident. On the other hand, ATV insurance policies can be written to include accessory coverage, collision coverage, comprehensive coverage, medical payments coverage, and uninsured/underinsured coverage.
Many ATV owners may be interested in collision coverage and comprehensive coverage. Collision coverage will provide insurance for significant physical damage to an owner's ATV if it, for example, hits another ATV, a tree, a parked car, or some other stationary object. Comprehensive coverage will provide insurance for damage to or the loss of an ATV due to theft, fire, vandalism, and other similar occurrences other than a collision.
If you have any questions whatsoever about insurance coverages relating to the ownership or use of an ATV, I encourage you to discuss your questions with your insurance agent. In doing so, make full disclosure regarding the make and model of the ATV and describe the nature and use of the ATV.
Once again, it is important to understand ATV insurance coverage before an accident or claim arises. After an accident, it is too late.
I hope you found this article helpful and informative. Be legal. Be safe. And, enjoy ATVs.